One big season can elevate a player up the draft board quickly. A bad season or one plagued by injuries can push a player down the draft board in a big way. A key to finding value in Fantasy Baseball drafts is to find the value plays in the middle or later rounds.
A player that fits that mold for the 2018 season is Marcus Semien. The Oakland A's shortstop only played in 85 games last season. Most people are enamored with stats from the previous season and they don't stand out for Semien because he missed so many games. However, it's realistic to envision a season in which Semien hits 25 home runs and steals 15 bases.

Join FullTime Fantasy Sports for top advice in the industry from check-cashing, proven winners!
Semien was bothered by a bad wrist in the spring last season. In mid-April, he was diagnosed with a fractured wrist and had surgery. Semien had missed only 10 games from 2015-16.
Semien batted .171 in the first 11 games of the season and was bothered by wrist pain. Players coming off wrist surgery are always risky, but Semien returned in July and had a good finish to the season even though he was playing through some discomfort in the wrist.
Semien's stats were solid considering he came back less than three months after surgery. In the second half of the season, Semien batted .262 with with 45 runs, nine home runs, 36 RBIs, and seven stolen bases. For the season in 85 games, Semien batted .249 with 53 runs, 10 home runs, 40 RBIs and 12 stolen bases in 13 attempts.

Like and share our new Facebook page! Be sure to pay attention to our giveaways for your shot at some sweet prizes!
The 27-year-old shortstop often hit at the top of the order or second and will likely bat lead off for the A's this season. Semien has been very efficient on the base paths and it wouldn't be surprising if he ran more often, which occurred last season. He went 11-for-16 in 2015 and 10-for-12 in 2016. There's a good chance he gets 15-20 stolen bases and compiling players in this range if you miss out on the elite base stealers like Trea Turner, Billy Hamilton and Dee Gordon, is important to be competitive in the stolen base category.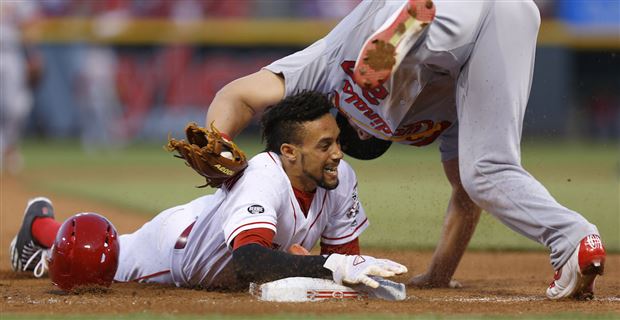 Semien batted .238 with 72 runs, 27 home runs, 75 RBIs and 10 stolen bases in 2016. He has a good chance of coming close to those numbers with an increase in stolen bases. Semien won't hit for a high average. He's a career .246 hitter, but it's rare to get a five category player in the middle rounds. Semien has an ADP of 244 on fantrax.com. He's an excellent target to plug in at the middle infield spot in a mixed league or a cheap shortstop in an AL-only league.

Join FullTime Fantasy Sports for top advice in the industry from check-cashing, proven winners!