I'm so happy, 'cuz today is a Friday slate – GIFtastic style.
Pitching looks ugly — that's okay 'cuz it has Colin McHugh.   Donkey plays.
Friday Braun could double dong for all I care, and I'm not scared.
Playing the champs in Chase, 'cuz Godley's a fraud…
Suck it Humidoooooooooooooooooooooooooooooooooooooooooooooooooooooooooooooooor
We are getting closer and closer to the regular MLB grind with large slates but still have an under-sized Friday today which is actually going to happen a few times this year because the MLB Commissioners office is completely clueless at what they are doing.  Yes, I prefer a 14-15 game slate any day of the week over these mini slates.  Tonight is only eight games, doesn't make it harder or worse, I just think bigger is better….  Slates!!  The big slates!!!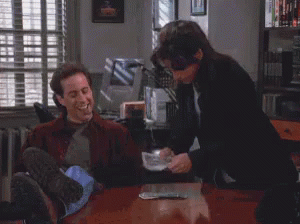 WEATHER
MIN vs PHI … It's cold and rainy. Know how I know this??  Google.  Do your own weather research folks.  Now, as for the game.  They can easily play two tomorrow if they wanted too and going from rain and low 40's today to sunny and upper 60's tomorrow is probably a sharp financial decision, so this game has PPD risk no doubt on it but I actually think they could get it in if they want too.
Chase Field Roof Status …
Not only are there no A level pitchers going tonight, I don't see any B level starters going either, which means all the top "popular" options automatically get slid into the "Average chalk" category type pitchers which are generally the guys we like to fade unless their price is just automatic plug and go.  And tonight it is not for me, so there's a couple arms here who I just don't love but I think are very chalky today… I'll get to them after my guys.

Lance Lynn (DK: $7,000, FD: $6,700) … Here's the nice thing about Lance Lynn, he usually gets hammered by left handed HITTING — stay with me here, I'm gonna prove a point — and that is a good thing because well, he's actually a very servicable arm against righty bats and when you break down the Angels lineup today the left handed bats that he will have to deal with are Kole Calhoun, Justin Bour, Tommy La Stella and Brian Goodwin.  You aren't rostering any of those guys.  He should also benefit from having Jeff Mathis behind the dish, who isn't exactly in the lineup himself for his bat.  The Angels historically have been a team who doesn't walk a ton or go deep into counts so I like Lynn to do a few things today.  1- He will go 6 innings and on a slate like tonight that's a big deal.  2- He won't give up many base runners which really helps on DK and limits any damage and 3- He will win, 4- He is the scentless apprentice.  On a slate starved on strikeout arms, I am fine going Lynn…   Yes…. We are going Laaaaaaaaaaaaaaance!
Jose Quintana (DK: $8,400, FD: $7,700) … Move over Carlos Martinez, there's a new Miller Park Sheriff in town.  Jose Quintana has made some of his best starts over the past few seasons as a visiting arm in Milwaukee having always gone 6 innings in five starts and never allowing more than 2 ER.  In general he was really good against these Brewers last year and with Jesus Aguilar struggling out of the gate and Quintana having Braun's number I really think we can trust Quintana to pitch well today.  The question is can we trust his offense, the defense behind him (sans Cain) and the bullpen?  That's what makes Quintana more of a sneaky play today, but I like the under here so long as Friday Braun doesn't Rape me.
Pablo Lopez (DK: $6,600) … This is a DK SP2 sneaky play only.  I like Miami to upset Atlanta today and Lopez is better than folks realize.  I do worry that Acuna is up for this game again as a Marlin destroyer.
Nick Pivetta (DK: $7,700, FD: $9,100) … Steep price on FanDuel if you ask me, but Pivetta has the most strikeout potential on this slate.  The game has weather concerns which will drive his ownership down and he is not a guy I am considering on a main lineup at all, but he will avoid Cruz who is the hottest hitter for the Twins and even though its a great park for these Twins bats, you are playing him for the strikeouts.  Which they do quite a bit of on the road.
FADES — Yikes… this section is long today

Colin McHugh (DK: $9,500, FD: $8,600) … Without looking at pricing or ownership I would have said yes you can consider McTwo on this slate, but McTwo is going to be a popular play as the highest priced arm on DraftKings?  Why do I call him McTwo?  Because he's good for about two times through the batting order and then he will be out.  The Astros pitchers are always much better at home and McTwo benefits from that greatly, but given how poorly the Astros bats are swinging right now and a quality opponent on the other side, I cannot pay that price tag for McTwo today.
Shane Bieber … Da hell if you think I would play a Bieber on today of all days?   Get the hell out of here with that weak I wear Jordan's and LeBron's shit…
Kevin Gausman … Not touching him in his first start.
Trent Thornton … Has shown a little bit of an edge both in the pre-season (beaning Harper in the foot – on accident – and then telling him to suck it up) and then mowing down the Tigers in his first start.  He draws a Cleveland offense that is striking out a ton and is down to pretty much no quality hitters right now?  This has trap written all over it.
CHASE FIELD – The Roof is open and while it won't be 90+ degrees in Phoenix tonight, I am still going to this spot because the arms (Porcello/Godley) deserve all the picking on we can stomach today.  Humidor Schumidor, its a farse that the humidor will prevent Chase Field from being a viable DFS spot and especially with the roof open over the years it has been a gold mine — EVEN LAST YEAR.  If you may recall, Chase Field did produce a 20 run game, the highest in its history last year — Suck it…  Anyways, back to this game tonight…
RED SOX … Boston has been bad to start the season, but their offense has not been cold.  Nope.  That's a myth.  The Sox went into Oakland (I guess this is going to happen all year where folks dont realize visiting teams cant hit in Oakland???) and they always suck there, shocking.  But they were hitting in Seattle before that and JD Martinez and Mookie showed some good signs at the end of the Oakland series.  Load up JD tonight in Chase Field where he absolutely raked in his short time as a D'Back.  Raffy Devers was 5-12 to start the season in Seattle batting in the 3 hole but then quickly went 1-13 in Oakland — shocker.  He gets swimming tonight and of course if you want a sneaky catcher play on DraftKings, don't forget "Road Catchers in Chase".
Rafael Devers, JD Martinez, Mookie Betts, Christian Vasquez/Blake Swihart
D'BACKS … And yes, we are attacking Ricky Porcello.  There's really no chance in my mind that Porcello can get David Peralta out tonight.  Assuming JD Martinez starts that hurts Boston's OF defense in a huge park and thus gives us more gaps for Peralta and Jones to drive into.  Jarrod Dyson not the worst punt if you are heavy on Arizona.
Adam Jones, David Peralta, Christopher Walken Walker.
SNEAKY

Marlins … Gausman first full start is a risk to not go deep and the Braves bullpen hasn't been solid this season.  The fish get a park bump and face a bad bullpen + a pitcher making his first start who at times can be wild.  Love Starlin Castro tonight at a bad position and we can get some nice value with guys like Riddle, Alfarro and Anderson here as well.
Starlin Castro, JT Riddle, Jorge Alfarro, Brian Anderson
Blue Jays … Neither team here has a good bullpen and I think this game definitely has sneaky late offense in it.  The Shane Beiber chalk is gonna be through the roof tonight and I don't trust him one bit.
UPDATED:  Socrates Brito (LiC), Teoscar Hernandez, Justin Smoak make a nice 1-3 stack.
Favorite one off players per position in BOLD
CATCHER:

Christian Vasquez / Blake Swihart:  If its Swihart lock him in.
Yasmani Grandal
Jorge Alfarro
FIRST BASE:  C/1B is a tough spot on FanDuel but I'm fine going C today there, these guys all have good HR upside in my mind tonight.

Anthony Rizzo:  Hits very well in Miller Park.
Christian Walker
Rowdy Tellez
SECOND BASE:  Very weak position

Rougned Odor
Starlin Castro
THIRD BASE:   Locking in on one guy here today.

Rafael Devers:  Gimme all the Devers (sadly batting 6th)

SHORTSTOP:  I don't mind coming off Boston here given how much love we have elsewhere for them.  Riddle is a sneaky play, but Correa likely the chalk.

Xander Bogaerts
JT Riddle
Carlos Correa:  Still a good value on FD, I am just not heavy on Houston today.
OUTFIELD:  Really solid position to pay up for today.

JD Martinez, Mookie Betts, Andrew Benintendi:  Yes, I like all 3 together.  Yes, JD Should play.
David Peralta
Ronald Acuna Jr.:  Think he remembers the Urena pitch?
Eddie Rosario:  Weather issues
VALUE OF:
Adam Jones:  Uh, OK DraftKings.  $3700?
Jason Heyward
Curtis Granderson
Socrates Brito
What is the Dongers Club exactly???  These are the 'special' calls for the slate, or more specifically they originated as players who are being picked to homer from their respective positions on the slate.  No more than one player per position and you can generally use these as my favorite play at the position on the day when trying to decide on a tie-breaker.  The Chairman is the top overall HR pick of the slate and it will not always be guys who are gonna wind up with 30+ homers — that's what makes this unique and bold.
CHAIRMAN:   Rafael Devers – 3B – Boston

Rowdy Tellez – 1B – Toronto
Starlin Castro – 2B – Miami
JD Martinez – OF – Boston
Carlos Correa – SS – Houston
David Peralta – OF – Arizona
Blake Swihart – C – Boston
Socrates Brito – OF – Toronto
BONUS ………………… Rougned Odor – 2B – Texas
BETS
Miami ML
Cincinnati ML
Toronto / Cleveland OVER 7.5
Arizona / Boston OVER 9