So we go from a nice big 15 (13) game slate tease back down a 7 game slate tonight.  What a debbie downer for someone like me who prefers the larger slates where we can pick apart some solid options in various spots.  Adjust your mind accordingly tonight on what is a really bad pitching slate.
NOTE:  FanDuel locks at 6:35 PM again, which is a 10 game slate there including three games, here is my quick thoughts on these three which you can integrate in with the rest of the picks below…
Boston @ NY Yankees:  I'm not reading much into the Sox striking out a ton vs a LHP last night and assuming it carries over to today.  That was specific to Paxton being locked in last night and I would consider Pearce and JD Martinez for Boston against Happ today.  Eovaldi IMO will pitch well enough to not consider the Yanks but also not well enough to consider him at all.  If you have money for Judge then he would be the main bat to pick up.
Pittsburgh @ Detroit:  No love here anywhere.  Not at all.  No K upside for anyone and with a 1 SP site we dont need to touch Trevor Williams or Spencer Turnbull.
Cleveland @ Seattle:  Carrasco on the road meets Carrasco sucking ass in 2019.  Love Edwin again here today.  I appologize for not giving him a parrot picture.  Roof likely open so get some bats in this game (Ramirez, Kipnis, Edwin, Haniger)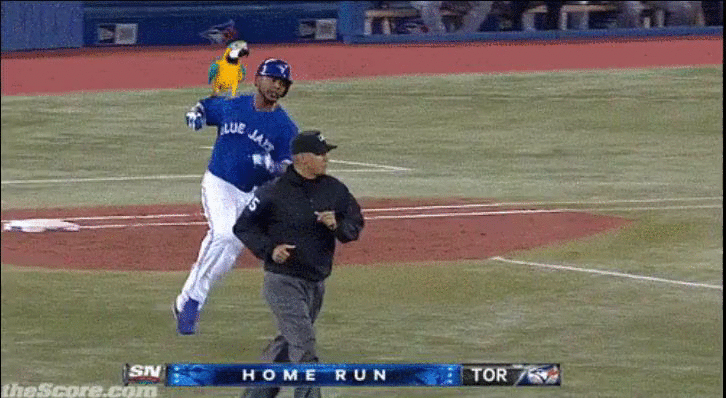 WEATHER
Heavy rain in Minnesota, wouldn't be shocked if this game was PPD early but if they wait there's a chance they could get it in late.
All other games play without concern.
Tonight is not about which guy is the one who is going to get us 10 strikeouts over 7 innings versus the guy who gets bounced in the 5th inning with 4 ER given up. 
Tonight is about finding the winning pitchers who get into that 6th inning without having to face a taxing inning along the way where they blow up.  Blow up innings will kill us tonight if you aren't careful and so I am looking more to pick on offenses than I am to lock in an arm because of his "talents" or "metrics".   I simply want a guy who is going to give me 100 pitches tonight….
Cole Hamels … Not picking on the Marlins last night finally caught up to us as one of the coldest offenses (for good reason) couldn't do anything against Jose Quintana.  Hamels is someone folks still like to avoid and even I will admit that the Marlins have a few bats who do hit LHP well enough to consider them — but when you have guys like Martin Prado, Isaac Galloway and Lewis Brinson in your lineup then you have holes we can pick on with a solid veteran like Hamels.
Wade Miley … Houston is on a roll.  Oakland at home in a night game right now is not.  Houston is going to win again.  Miley does well against Oakland and I think this game mirrors last nights in that Houston walks away with it.  Miley for the win.
Arizona vs Atlanta … This slate really lacks heavy offense to target, but the game in Atlanta has a couple teams who should do well in good hitting conditions.  This is a game however that I wouldn't be running to the bookie to place a bet on the OVER 9 total that it currently sits at.  I actually think both Godley (who isn't that good) and Gausman will pitch well enough tonight to keep this a lower scoring game.  Without a doubt though it's the game to give some consideration too for starting your lineups but I'm not rushing to go with a full game stack.
The obvious plays on Atlanta are Freddie Freeman and Ronald Acuna but the slower breaking ball/sinker action that Godley relies upon I think will play well for Josh Donaldson who is swinging the bat well of late and will be overlooked in a RvR match-up.  So I would pair JD with either Acuna or Freeman as you start your stud stack from Atlanta.
CORE: Josh Donaldson, Freddie Freeman (Atlanta) and David Peralta, Eduardo Escobar (Arizona)
ONE OFFS:   Nick Makarkis (ATL), Caleb Joseph (ARI)
Texas Rangers … It's not that I don't want to pick on Matt Harvey, I just hate going heavy on Texas.  Gallo is playing really well and the Andrus-Mazara-Gallo heart of the order is the logical play vs Harvey today.
CORE:  Joey Gallo, Elvis Andrus
THIRD LEG:   Nomar Mazara
Washington Nationals … If Matt Adams is 9 for 17 in his career against you then it's a good sign that you are one of the easiest targets in the world.  Jeff "Flipper" Samardzjia is coming off a fairly impressive start last week.  Not so fast!   When we have a small slate like this I love to take a shot on a team who's always hovering around "going off" for 9-12 runs like the Phils did last night and that team today is Washington.
CORE:  Matt Adams, Adam Eaton, Anthony Rendon
SNEAKY:   Even Wilmer Difo peaks my interest today
CATCHERS … Hit me a dong Caleb Jo, Caleb Jo…  People say you are useless them people are fools, because Caleb Jo was the finest picker to ever catch the Gassman…
Caleb Joseph:  I hope he starts vs his former pitcher.  These two had such a strong bond that I really smell like this is a Sale vs Flowers type situation.  It's Caleb Joseph, so anything he does tonight is contrarian.  Even playing….
Robinson Chirinos:  Astros exposure
FIRST BASE … I am done with Ji-Man Choi.  Feel free to ride him on a 7 game homer streak now.  But I won't mention him here again until he proves it.  Fat waste of space….
Freddie Freeman:  The chalk
Matt Adams:  On a HEATER (It's a joke), but seriously.  9 for 17 against the Shark.  Figures.  I mean.  What a combo these two are…
Brandon Belt:  Hey look.  East coast Brandon Belt.
SECOND BASE … It's not a position that leaps out to me today but I honestly would look to spend up here in tournaments with a one off stud.
Jonathan Schoop:  Rain issues here.
Ozzie Albies
Brandon Lowe
THIRD BASE …
Josh Donaldson
Alex Bregman
Eduardo Escobar
SHORTSTOP … This is my position to punt today, both Correa and Polanco are valid pay up guys but Correa isn't exactly on a tear and Polanco has weather issues…  So consider the two punt guys below them.
Carlos Correa
Jorge Polanco:  Rain issues
Brandon Crawford
Miguel Rojas
OUTFIELD …

Mike Trout:  Due to the cheap pricing on pitching today you should strongly consider this a good Trout in Texas spot.
JD Martinez / Aaron Judge:  FD Only
Nomar Mazara / Joey Gallo
Nick Markakis / Ronald Acuna Jr
David Peralta
OUTFIELD  (Value) …
Josh Reddick
Steven Duggar
Kole Calhoun
Jarrod Dyson
No sense loading up on heavy pricing for pitching today.  The last couple of days we have started to see the need for a 4 man stack to win a tournament come through again but this doesn't translate into you HAVING to do a 4 man stack to win.  If you had for example Bregman, Reddick, Correa, Springer from Houston last night you did well, but still took a 0 from Correa which can certainly be offset by getting exposure to the rest of the lineup but I would continue (and will continue) to start with 2 man cores and work out from there.
Josh Donaldson – 3B – Braves – Chairman
Caleb Joseph – C – Diamondbacks
Nomar Mazara – OF – Rangers
Brandon Belt – 1B – Giants
Brandon Lowe – 2B – Rays
Brandon Crawford – SS – Giants

This was not intentional.  I honestly went through my normal process and all three Brandon's stood out….

Mike Trout – OF – Angels
Aaron Judge – OF – Yankees
BONUS …………….. Jose Ramirez – 3B – Indians
BETS
Indians / Mariners OVER
Red Sox ML
Yankees / Red Sox OVER
Braves ML