WEEK 11 INTRODUCTION
I didn't know late this week if I would take the time to sit down and do an NFL DFS article this week.  My father passed away earlier this week at the age of 69 (one week shy of his 70th birthday) after a a long battle with Parkinson's and while we certainly knew that he wasn't well the rapid decline that he took over the last month has been difficult to watch and I'll be perfectly honest here, I didn't care less about DFS until I sat down to write out my plays, which has turned into a nice distraction from all the things going on for me.  As I have had some personal time to reflect and think I have found recalling nothing but positive and happy memories of the person who was my best friend growing up and had a large impact on my life.   You can blame him for all of my Saints related GIFs as he is the reason I am a Saints fan, a Bullets fan, a Royals fan and a pretty good golfer as well…   He wasn't actually a Saints fan or a football fan, but when I was a kid he would travel for work every once and a while and one spot he went too was down to the New Orleans, LA and Southern Mississippi region and he would bring me back something from each spot he went too.  He brought back a New Orleans Saints hat and that along with the fact that it gave me a rooting interest against my older Sister who was a bandwagon Bears fan a few years later just compounded my childhood adoption of the Saints and the city of New Orleans as a favorite of mine.  There's also no coincidence for those of you who know my weird interest in the San Diego Chicken (and mascots for that matter) that the other location my dad visited for work was San Diego….  He was a Mathematician with a Masters in Mathematics who attended the same high school as the leader singer for the Mama's and the Papa's and Jim Morrison — yes, that Jim Morrison — and graduated from the University of Richmond, a lifetime Washington Bullets fan who honestly felt that the Bullets were in trouble if the person doing the National Anthem didn't hit the high notes high enough — and you guys think I have some strange narratives?
---
on with the football …
THOUGHTS ON GAMES THAT DO VERY LITTLE FOR ME
Steelers at Jaguars – Ground and pound game for both sides and with Jacksonville I expect them to split the work among the RB limiting upside.  For Pittsburgh I don't have any desire to touch this offense on the road vs the Jags who I still believe are a formidable defense.
Bucs at Giants – I like the TE in this game given the landscape at TE this week, but you cannot convince me to play Eli Manning who is pretty much BAD versus every team.  I would much rather play Josh Rosen against the Raiders than Eli Manning vs the Bucs this week.  It's not even close for me.
Bengals at Ravens – There is a RB I think does okay in this game and a WR who I think is sneaky.  Yes, Lamar Jackson has some value at QB and is worth consideration on DraftKings, but the game overall is not one I am targeting.
Cowboys at Falcons – I found myself not heavy on this game.  I like a defense — see below.
Update … DION JONES is OUT for Atlanta, which was part of the reason I liked the Falcons D here.  Boost for Zeke.
MY AMBUSH CALLS & STRATEGY

MESS WITH THE BULL… YOU GET THE HORN

I felt early in the week that Quarterback is a heavy loaded position this week as two of the rushing QB's Cam and D-Watson are in good spots and Wentz/Brees should have a nice volume game in the Superdome.  There's a fantastic value play in Lamar Jackson assuming he does start for the Ravens and then there's some bad chalk in Eli Manning and Ryan Fitzpatrick.  Quarterback remains a fantasy position that you simply want the floor from everyone.  The difference between the 3rd QB and the 13th QB is so minimal because of the 4 PT per TD scoring that we just need to secure a floor and move on and the value decision doesn't appear to be that big of a deal this week unless you go down to L.Jackson on DK.
For me I look at Cam Newton vs Deshaun Watson and I lean Watson because he has Hopkins and Thomas on the outside instead of Funchess and a bunch of speed guys like Cam has.  The Lions are notorious for slowing the game down at home and should be able to run on the Panthers this week enough to stay on the field and keep Cam on the sidelines.  Where as Watson and the Texans should get a good amount of snaps against a Redskins team who offensively will try to slow it down but is better served attacking Houston through the air.  In tournaments you'll want to pivot off Newton's chalk and over to Watson-Hopkins this week.
My first QB-WR AMBUSH combination is the Houston Propane Company ………………. Watson, Hopkins and Griffin (TE).
Update — I listed Griffin third here, he's a longshot milli-maker type play at TE to save money.  Obviously Jordan Thomas has gotten red zone targets the last two weeks and would also be in play at TE — as would Demaryius Thomas at WR if you want to go full stack.  The Watson-Hopkins combination is the key here.
JOHNSON AND JOHNSON




I'm talking about the two headed RB monster of DAVID JOHNSON and KERRYON JOHNSON.  No, they're not on the same team suddenly, but they both check off a few boxes that I like for B-Level priced running backs (which somehow David Johnson is still a B-Level priced RB)…   Both are at home.  Both are on turf and both are the primary RB option for their teams.  David Johnson is very straight forward and is expected to be fairly chalky this week.  He draws the Raiders.  Nuff said right?  Well, lets back it up with some game log data as well for DJ since Byron Leftwhich took over the play calling in Arizona.  DJ has seen his carries go up to 16 and 21 the last two games and his targets went all the way up to 9 last week against KC who was giving up plenty of targets to opposing running backs.  The encouraging part about the obvious increase there is that Arizona did the OBVIOUS thing and fed DJ the ball.  They should do that again here this week and I like Arizona to put up 27+ points which means we'll get DJ in the box for sure once and hopefully twice.  A 25 point game is not out of the question here and is what I fully expect.
Kerryon 'my wayward son' Johnson draws a matchup that on paper/name appears harder as Carolina is perceived to be stout against the run.  Fact is yes, they're good against the run but away from Carolina they tend to play less dominant against the run even dating back to last season.  In four of their road games the Panthers have given up 170 (Atlanta), 132 (Washington) and 138 (Pittsburgh) yards on the ground.  Detroit has seen Golden Tate and now Marvin Jones disappear from their passing attack which means its mostly Kenny Golladay and Theo Riddick in the passing game which also means Johnson on the ground and hopefully he doesn't get vultured in the red zone.
---
MY POSITIONAL BREAKDOWN
QUARTERBACKS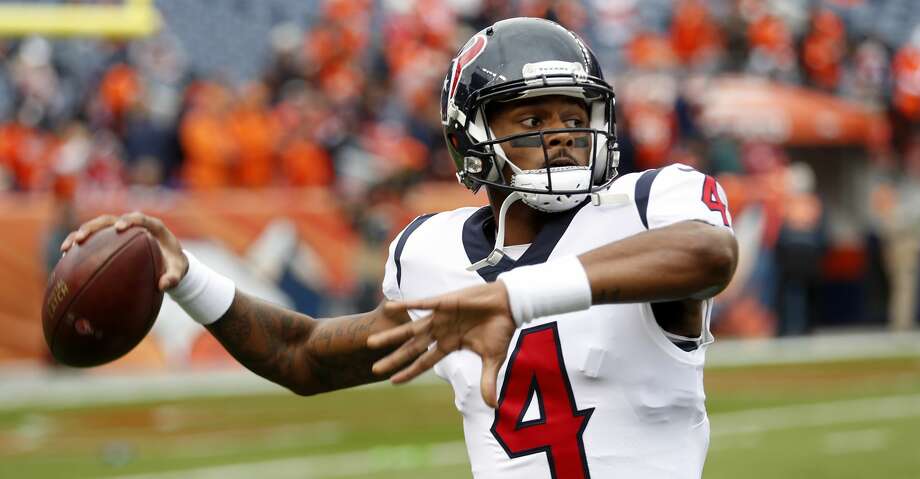 DESHAUN WATSON … I love Watson > Cam not only forever but this week as well.  Expect Cam to be heavily, heavily owned this week but Watson is the pivot off him for me.  He shares rushing upside and has much better WR compliments to exploit the Redskins improved — but still weak IMO — secondary.  Who can cover Hopkins?  Nobody, but Bill O'Brien.
CARSON WENTZ … Even if Philly tries to run the ball heavily this week I don't see them having success in doing such.  This is a game for Wentz to air it out 45+ times and with that type of volume in the Superdome and with plenty of pass catching options we gotta consider Wentz in all formats this week.  He may not have the best statistical day in terms of efficiency and limiting interceptions here, but 350-400 yards is in play along with 2-3 TD and those are great fantasy numbers for his price.
CAM NEWTON … We know Cam throws more on the road and vs a Lions secondary that is thin he should look to do that as well.  If he rushes one in then he will hit value, but ain't no chance I have Cam on a main lineup.  Seriously?  You must be new here.
FADES:   I am fading Cam (..it's just a rule for me…), Eli Manning.
OTHER:  Lamar Jackson (DK Value), Josh Rosen, Drew Brees
RUNNING BACKS
My favorite 'stud' plays here this week are Alvin Kamara and Melvin Gordon.  Both are home favorites in ++ match-ups, while David Johnson is likely the best all around pt/$ play on the board.
KAMARA is drawing a Philadelphia defense that has yielded rush totals of 147, 121 and 171 in three of their last four games against the Giants (Barkley), Panthers (CMC) and Cowboys (Zeke).  So putting Kamara and Ingram in that same tier is a fair assessment.  But throw in the pass game volume for AK who is a touchdown machine and this is the RB I feel best about this week to hit a 20 point mark and I expect the game to be close which bodes well for Kamara to get more receptions as the game progresses on.
GORDON is likely the most popular RB on the slate against the Broncos poor rush defense and at home.  Denver is coming in fairly rested having a BYE last week and they have only played TWO games in the last MONTH of the season.  If ever there was a defense poised to steal an upset it would be the Broncos as they will come into L.A. against a Chargers team dealing with the local fires.  So in DFS, this is a great spot for Gordon then if the game is going to stay close.  He should be on your cash game radar this week but certainly has some tournament fade options.
DAVID JOHNSON remains someone on the uprise and underpriced.  The Oakland Raiders are the team to pick on in the second half of the season, and they only practiced once all week due to the fires near them in California.  The chances of the Raiders shutting down Johnson with everything in their favor were limited and now the Cardinals with a third game under Byron Leftwhich's offense should continue to ride David Johnson and at his price, he has a FANTASTIC spot at being the best pt/$ play on the board this week.
NEXT GROUP OF GUYS if doing more than 3 LINEUPS …
CHRISTIAN McCAFFREY … Always someone I like on turf.
EZEKIEL ELLIOTT … RB vs Atlanta remain a favorable match-up and I expect Zeke's ownership to be high off his game last week.
SAQUON BARKLEY … Might go under the radar with folks drawing to Eli Manning (for some stupid reason)
VALUE RB OPTIONS
KERRYON JOHNSON … Sneaky 2% play here.  Everyone is flocking over to Theo Riddick with Tate gone and Jones out.  The Lions hopefully will use the pass to open up the run game this week attacking a bad Panthers secondary deep and Kerryon likely does the bulk of the carrying with Theo being a pass catching target.  Johnson scores this week.
ALEX COLLINS … I love that Collins gets Lamar Jackson under center, but I fear they still resist giving Collins 20 touches here even if they are controlling the game.  Collins will be overlooked this week, get him on DK.
PHILIP LINDSAY … If the Broncos are gonna pull off the upset, then Lindsay and Manny Sanders will have to carry the bulk of the load.
WIDE RECEIVERS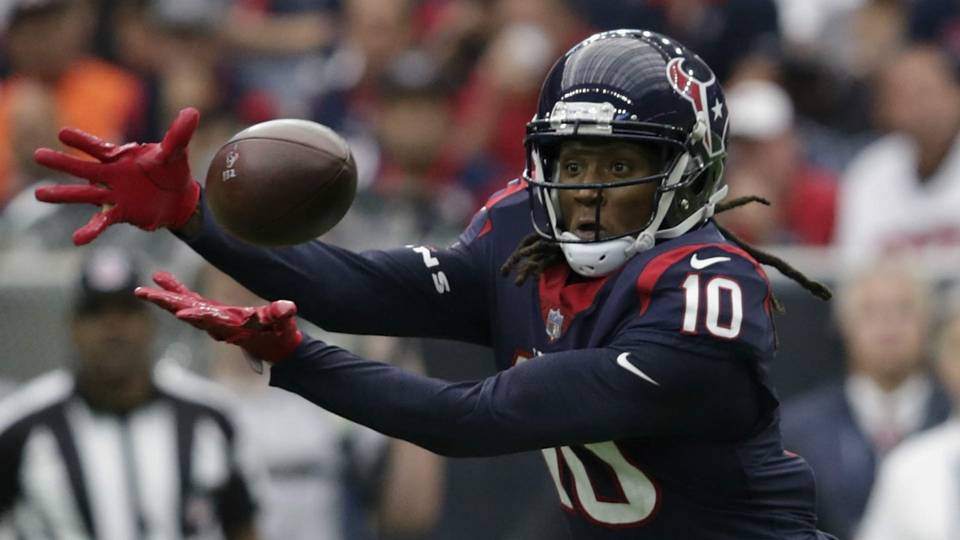 If we are simply looking at the numbers and the defensive names then Odell Beckham and Michael Thomas are miles ahead of the competition this week.  This is one of those spots for OBJ where I think he gets that one big play which keeps his owners happy but he does not completely blow the roof off against Tampa.  Lets remember he has Eli Manning who we have plenty enough sample size data to assume he will suck most likely and not have a 400 yard passing game where OBJ completely ruins the slate.  OBJ is a 100% fade for me this week in favor of Michael Thomas against the Eagles secondary for your cash games … But my favorite tournament play? ………………..
DeANDRE HOPKINS … If you wanna spend up at WR then Hopkins has to be the next guy in line this week and is your OBJ ownership pivot.  This actually is a sneaky high scoring back and forth game this week and Watson will rely on Hopkins.
MICHAEL THOMAS … Eagles 2nd year CB Sidney Jones is expected to start but without Darby this is still a match-up dream for Thomas who should lineup all over the place and has shown he still gets open against bracket coverage.   And despite all the praise on Jones, lets recall that he still hasn't played more than a handful of games, so without Darby and Jalen Mills this Eagles secondary is even more ripe for the picking.
GOLDEN TATE … Has MUUUUURRRDERED the Saints in the Superdome, but his lack of usage last week is troubling.  If he gets the snaps he could have a MASSIVE game here this week.   Tate along with NELSON AGHOLOR are the WR to correlate with Wentz this week.
KENNY GOLLADAY … We're seeing the emergence of the next stud at WR right now
DEVIN FUNCHESS … Carolina throws the ball a ton more on the road which means more Bunchess of Funchess
TY HILTON … Despite Brady sucking last week, the WR for the Pats (Gordon specifically) did have success getting open vs this Titans D.  At home TY should have a big day here.
OTHER GUYS I WOULD CONSIDER
Calvin Ridley … Everyone's back on the Julio hype train and this is a good week to jump on Ridley.  Atlanta won't be able to run at all vs Dallas IMO.
Ju-Ju Smith Schuster … The only player I like in this game.
Christian Kirk … The Kirk emergence is happening in Arizona.  He gets 2.5x vs OAK this week.
Tyler Boyd … Might go overlooked vs Baltimore.
Keith Kirkwood … You don't think I'm gonna go this whole article without a B.S. Saints call do you?  The kid looked fantastic in his routes and blocking last week.  He will get snaps this week.
DeSean Jackson (UPDATE) … Always shreds Giants in New York
for some reason I left off my boy Tre'Quan Smith….  Probably because I went cute with Kirkwood here, but TreQuan's price is too cheap and expect him to be HEAVILY owned on both sites.  He is chalk this week and he is good chalk.
TIGHT ENDS
I'm sorry if you decide to roster two of these guys this week, I just don't see the prices justifying it on FanDuel where the pricing actually matters in NFL DFS this season.
OJ Howard … Best passing option for Tampa and facing a Giants D that I can still trust TE against over the middle of the field.  Howard hasn't been Fitz's best target but should gain a ton of looks in the red-zone for Tampa this week.  I like Tampa to keep this close and beat the Giants this week.
Zach Ertz is actually worth taking a shot on for me this week.  Yes, the Saints are statistically very high against TE's this year, but this is a 2 TE set for Philly and if you gotta secure Wentz with any one player this week for me it's Ertz.  This means paying down at RB a little bit, but it's a nice GPP roster construction play this week.
Evan Engram … Favorable match-up and a way to get Giants exposure without touching on Eli having to throw it deep.
Jordan Reed … This is a correlation play with the Watson-Hopkins combo
VALUE:   Jeff Huerman, James O'Shaugnessy, Jermaine Greshamn, Ryan Griffin
DEFENSES
Once again, start with defenses.  However, this week is a RANDO COMMANDO week at Defense. Any one of these 5 are in play for me.
Arizona Cardinals .. Defenses vs Raiders
Atlanta Falcons .. Tournament defense play of the week.  Dallas offense is coming off their game of the year in Philadelphia Sunday night while Atlanta is getting Dion Jones back, is at home, and gets a banged up Cowboys O-Line to feast on.  Dallas has given up 32 sacks this season.
Update … DION JONES is OUT for Atlanta, which was part of the reason I liked the Falcons D here.  Boost for Zeke.   Still worthy of taking a shot on Atlanta given the D landscape this week, just dont like them as much.  
NY Giants … Defenses vs Tampa
Baltimore Ravens .. Without AJ Green the Bengals offense really has slowed down and going into Baltimore Dalton is in a tough spot.
Indianapolis Colts .. I think they get to Mariota and control this game defensively, but I do worry about this game turning into a shootout if the Colts score early.
NOTABLES AND GUT FEELINGS

There will be trick plays in the Philly/Saints game for sure.  Philly running some trick special teams plays while the Saints are going to have some insanely wild trick play that likely features something like Alvin Kamara doing a toss back flea flicker to Taysom Hill who then hits Drew Brees on a 37 yard TD strike.   Drew Brees catches a TD this week.
Atlanta defense has a fantastic game setting them up for a nice letdown next week against whomever they might be playing.
If the National Anthem singer hits the high note on "land of the free" then the Saints are winning by 1000000000000.
I would do a Josh Rosen-Arizona Cardinals type stack in the Milli-Maker just for the heck of it.  Gut feeling.
Last week almost all the underdogs had a good week.  This week we're gonna see the favorites back-door cover everything.