FanDuel recently updated their PGA DFS offering, so players are trying to figure out the new format and optimize their lineups accordingly. They've taken away their split rosters and made their PGA product very similar to DraftKings' product. The main difference is that you'll still have eight golfers to choose, and each player will accrue points for all four tournament rounds.
FanDuel Golf Scoring System
Eagle = 7 points
Birdie = 3.1 points
Par = 0.5 point
Bogey = -1 point
Double bogey (or worse) = -3 points
Streak bonus = 0.6 points per hole under par
Bounce back (birdie or better after making bogey or worse) = 0.3 points
5+ Birdies in a round = 4 points
Bogey-free round = 5 points
1st place = 20 points
2nd-5th place = 12 points
6th-10th place = 8 points
11th-25th place = 5 points
Tournament Stop
This week, players face the Silverado CC's North Course. The layout is a 7,203-yard par-72 featuring four par 3s and four par 5s. As expected, scoring on the par-5s is going to be important, but not as important as the par-4s. The course features tree-lined fairways and a decent number of doglegs, so accuracy off-the-tee should be important. What I love about this track is that any player can contend, not just the bombers. The greens are extremely undulated, but won't be running too quickly. If you take a look at some of the quotes from players over the years, these points are reflected. As far as comparable courses, I would look towards Riviera CC and TPC Four Seasons, because we've seen a lot of players with great track records on both of those venues. Additionally, I'm going to favor some California-based players, because these tricky Poa Annua greens favor those who have a ton of experience putting on them.
Recent Tournament History
Silverado has only been the host of this event since 2014, so we only have the past three years of course history to draw upon. Overall, the mold of a player who has done well here has been shorter, more accurate players. Here are the leaderboards from the past three installments of the Safeway Open: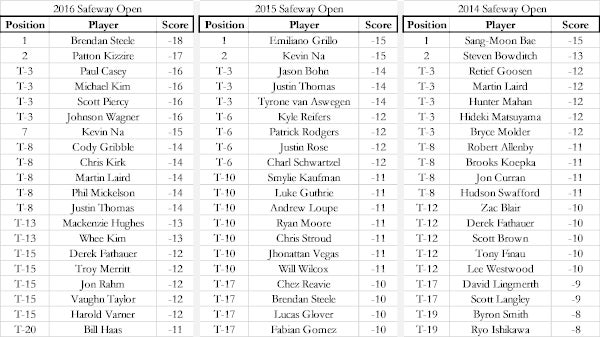 Current Form Review
Each week, we'll look backward at the last three tournaments on the PGA and European Tours. Because this is the start of a new season and we have an influx of rookies, I'm skipping current form reviews. Most of these players have had several weeks off, and many of the top players are still enjoying time off. I'll be focusing more heavily on course history and pedigree this week.
Statistical Report
Strokes Gained Approach (SG:APP): Ball-striking, especially with irons, is going to be a major key for players this week at Silverado. These greens are difficult and undulating, so giving themselves good birdie opportunities while avoiding three-putts will separate players from the rest of the field. There are quadrants of each green that players are going to have to hit, and that means strokes-gained approach is critical. This lends itself to ball-strikers. Scrambling will also be a challenge, so players hitting the most greens will be able to save pars (and make birdies) at a high rate. In terms of recent play, the players to target in strokes gained approach are Robert Garrigus, Kevin Na, Ben Martin, Patton Kizzire, Billy Hurley, Derek Fathauer, Martin Flores, Harold Varner, Chad Campbell, and Rory Sabbatini.
Strokes Gained Off-the-Tee (SG:OTT): Every week, off-the-tee play is my main target. Guys who can hit it long and straight have a huge advantage over the rest of the field. It makes courses shorter and allows them to hit approach shots from shorter distances, setting up birdies. One thing that I've found is that form is key for these players. The best off-the-tee players are Tony Finau, Jason Kokrak, Luke List, Keegan Bradley, Robert Garrigus, Matt Every, Grayson Murray, Brendan Steele, Rory Sabbatini, and Brandon Hagy.
Birdie or Better % (BoB%): There are not many weeks where we aren't going to target birdie or better percentage because that's what fantasy golf scoring is all about. There's going to be plenty of bogeys this week, so we need birdies to offset the damages. Silverado typically lends itself to low scores, with some short par-4s and reachable par-5s. The best players in this field in recent birdie or better percentage are Matt Every, Robert Garrigus, Rory Sabbatini, Smylie Kaufman, Brandon Hagy, Seamus Power, Ryan Armour, Sam Saunders, Grayson Murray, and Luke List.
Par-5 Scoring (P5): Silverado is a par-72, which means players will get four par-5s to attack. Although they will play easy for every player in the field, our typical par-5 scorers are huge targets for me this week. Birdies and eagles will be abundant this week, and I think the player who leads in par-5 scoring will hoist the trophy this weekend. Here are the top-10 in recent par-5 scoring average: Smylie Kaufman, Vaughn Taylor, Ryan Armour, Luke List, Tony Finau, Martin Flores, KJ Choi, Brandon Hagy, Grayson Murray, and Kevin Tway.
Studs
*In order of my rankings
Tony Finau ($9,500) – It's strange to see Finau as the highest priced player in the field, but he deserves that title this week. Finau has made all three cuts at Silverado, including a 12th place finish in his debut in 2014. On paper, he checks the statistical boxes I'm targeting this week, especially par-5 scoring average. He's been knocking on the door of his second career win, and I think he'll get there in this Fall Swing. Finau finished 7th at the BMW Championship and 7th at the Tour Championship, his last two starts in the FedEx Cup playoffs.
Ryan Moore ($8,800) – Since a shoulder injury this summer, Moore has quietly bounced his way back into form. He made a run in the FedEx Cup playoffs, finishing 20th at the BMW Championship and narrowly missing out on East Lake. Moore in a West Coast specialist, and we've seen him have success on poa annua greens and in the Fall Swing. In one appearance at Silverado, Moore finished 10th. From a pure betting perspective, 30-1 on Ryan Moore is great value.
Brendan Steele ($8,600) – After blowing a final-round lead here in 2015, Steele won this event last season due to a closing birdie barrage. He's an elite ball-striker and iron player, and tends to fire some really low rounds early in the week. Steele knows how to play these easy courses during the Fall Swing, and it wouldn't be surprisingly to see him in contention this weekend. Steele played decently in the FedEx Cup playoffs, and just missed out on the Tour Championship. He'll be popular at this price, but a very safe play this week.
Kevin Na ($7,800) – Kevin Na is a popular pick to win this week, because his game suits the course perfectly. That's coupled with his course history, since he's finished second and seventh here the past two seasons. Na has won in the Fall Swing before, and these are the types of fields he usually dominates. Surprisingly, Na's birdie or better rate was incredibly high last season, and I expect him to continue that solid play this week. A great cash game play.
Bill Haas ($9,200) – Haas is a six-time PGA Tour winner, with half of those wins coming in California. Haas also tends to dominate weaker-field events, and this is no exception. Although he's only played here once, Haas did post a top-20 finish. The end of last season was disappointing to Haas, missing out on the Tour Championship and the President's Cup team. He recently had a baby, and seems to be in a good place in life. Look for a bounce back season for Bill Haas.
Steals
Graham DeLaet ($6,600) – DeLaet will probably be a cash game lock for me, but he's a great fade candidate in GPPs. This is just a gross underprice for a player of his caliber, and I expect him to be one of the highest owned players in this range. DeLaet has made two of three cuts here, and his elite ball-striking should suit this course perfectly. For DeLaet, it's all about his putting. We often talk about rookies getting their first Tour wins, but DeLaet (a ten-year veteran) is also searching for his maiden victory. I think he gets one this season.
Sam Saunders ($5,600) – Saunders shot a 59 last weekend, en route to a runner-up finish in the web.com Tour finals. It was great to see him retain his PGA Tour card, because he flashed some serious game towards the end of last season. He's always been a solid putter, but Saunders dramatically improved his ball-striking. He should still go overlooked this week, sandwiched between popular names like Luke List, Scott Piercy, and Graham DeLaet, so Saunders is an elite GPP play. He ranks 5th in my statistical model this week, albeit a small sample.
Luke List ($5,400) – Luke List may be extremely popular this week, but I'm a huge fan. He's a statistical fit, ranking very highly in strokes gained off-the-tee, strokes gained approach, and par-5 scoring. With List, this is all about putting, as he's one of the worst on Tour. The California native loves playing at home, and should be one of the favorites in this weak field. List continues to knock on the door of his first PGA Tour win, and I think he gets one this Fall. He posted a 26th place finish in his debut here last season, and made all of the cuts in the FedEx Cup playoffs.
Pivot plays
Jamie Lovemark ($8,000) – Sticking with the California angle, Lovemark is one of my favorite plays this week. He grew up on the west coast, attended USC, and should be very comfortable on these surfaces. Lovemark has made both cuts at Silverado, and he's trending towards a top-10 this week. In his last two finishes in the FedEx Cup playoffs, Lovemark finished 40th and 33rd, capping off a solid year. He made the cut in all four majors, including a couple top-25 finishes. Lovemark fits the mold of another player seeking his first PGA Tour win. A Fall Swing event in California is the perfect spot for him.
Mackenzie Hughes ($6,400) – Mackenzie Hughes is one of my favorite sleepers this weekend. He'll have fond memories of Silverado (he finished 13th last year and then won his next event), and has a game that fits this course perfectly. Hughes played very well in the FedEx Cup playoffs, posting a 13th at TPC Boston and then 44th at the BMW Championship. Although he didn't make the Tour Championship, he was a Tour winner and candidate for PGA Tour Rookie of the Year.
Vegas Says…
This section focuses on "odds" players – those players whose odds vary the greatest with respect to their FanDuel salaries. Keep in mind, this doesn't make these players "good plays" or "bad plays", but it simply measures the value based on their price. I've done this not just with the actual rankings, but as a percentage. So, if two players have a difference of 10 spots in pricing versus odds rankings, the player ranked higher overall will have a higher percentage. It's a quick way to find value. I use an aggregate of odds from various odds makers to come up with my valuation.
The value differential column shows the number of spots lower in salary than their odds to win imply. The differential % column shows that as a percentage of the players FanDuel salary ranking. Here is a list of the top-20 "values" based on my aggregations: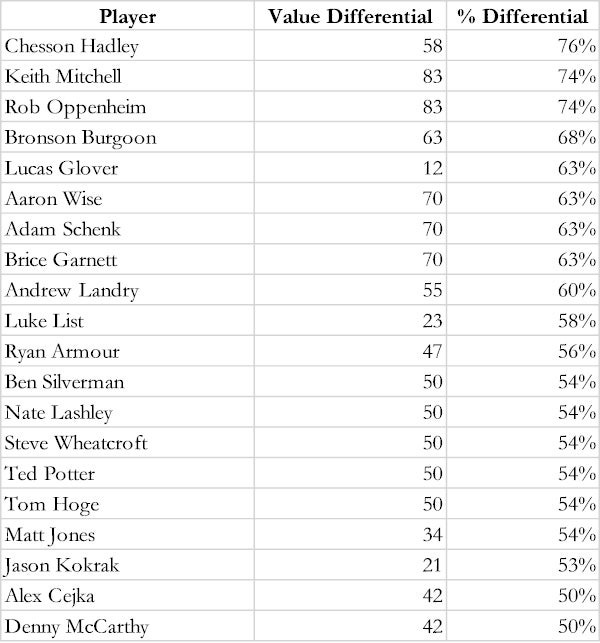 Overpriced
On the flipside, we have the list of players Vegas believes are overpriced based on their odds to win. Using the same model and calculations as above, here are the top-20 worst "values" based on my aggregations: