Use the STACKS of the DAY article to dive into some tournament plays for the night.  The STACK of the DAY and CHALK stack are designed for use in single entry tournaments as well as 3/5 and MME spots while the game stack and value stacks are great for use when doing multiple lineups in the MME tournaments.
STACK OF THE DAY
Edmonton Oilers:   McDavid-Rattie-RNH-Klefbom
I love attacking teams who have had a long layoff or have traveled a long distance on a road trip and are playing their first game back at home.  We have both scenarios here with the Florida Panthers who return from a series in Finland with the Winnipeg Laine's (Jets).  Florida is also a team who naturally we would be targeting anyways as I always love to get some Panther game action in due to their high pace and their consistent production to opposing defense-man.  Edmonton is the perfect unit for me today to jump on the Florida Panthers with and with Ty Rattie back and on the top line with McDavid that is where we want to go.  The key here for me today though is that all of my lineups will start with Oscar Klefbom.
Extra Stacker:   Klefbom is a must for me, I would play him over RNH if you only want to go with 3 guys here.
Goalie Correlation Confidence:    Medium
Mini Stack/Combo:  McDavid & Klefbom
CHALK STACK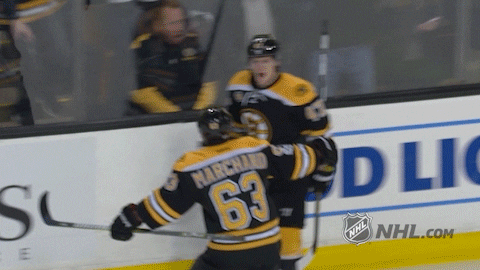 Boston Bruins:  Bergeron-Marchand-Pastrnak
This shouldn't take a brain surgeon to figure out.  Boston's top line is one of the best and usually one of the chalkiest lines in hockey due to the fact that they are a one line team that dominates the offensive production.  Tonight they're at home against a bad Vancouver Canucks team and have a HUGE money line favorite in their direction.  This is normally a spot I would say to fade but it really feels like we're due for that Brad Marchand multi-goal game any day now and tonight against Vancouver is a spot I would look to get him as a one off if you can.  If you are going into a single entry and are playing things safe, this is your spot today.
Extra Stacker:   None
Goalie Correlation Confidence:   High, but not worth the price.
Mini Stack/Combo:   Bergeron & Marchand to be contrarian and fade Pastrnak, but …. that's kinda silly IMO.
GAME STACK
Carolina Hurricanes vs Chicago Blackhawks
I am not dead certain what to expect with the coaching change in Chicago right away but my gut instinct is that the Blackhawks are going to come out aggressive against Carolina who continues to dominate in shots on goal this season and continues to be a good sneaky team to attack for DFS value.  The danger here is that I am telling you to gamestack my two eleanors Sebastian Aho and the Chicago Blackhawks entire team.  What can go wrong?  But none the less, neither team is great defensively IMO and with Chicago at home I think they're going to come out looking to prove something today.    Dougie Hamilton is shooting the puck a ton but had a down game the other night, he will bounce back today.
Hurricanes:   Aho-Ferland-Hamilton
Hawks:  Toews-Debrincat-Kahun
Favorite overall plays from this game:   Aho, Hamilton, DeBrincat
SNEAKY VALUE STACK OF THE DAY
Arizona Coyotes:  Stepan-Fischer-Perlini
This is a home and away between the Coyotes and Flyers.  Such a fantastic annual tradition these two clubs have to be doing a nice little home and away.  Anyways, enough bad sarcasm.  Do you trust the Flyers coming back home for their first game after a west coast trip?  They've played well on the trip.  ….  I'll wait.   I didn't think so, and neither do I.  Arizona is a sneaky team this year and Stepan is familiar with the Flyers, he scores tonight.
OTHER COMBO'S I LIKE BUT DIDNT MAKE THE LIST
Trocheck & Huberdeau (Panthers)
Eichel & Skinner (Buffalo)
Tuch & Pacioretty (Knights) … Love Patch
LINE LOCK:    McDavid, Rattie, Nugent-Hopkins (Oilers)
ONE OFF STUD WINGERS:   Brad Marchand (Bruins)
ONE OFF VALUE WINGER:   Alex DeBrincat (Hawks) … Not a super value, but $5700 is really good price on him today.
TOP DEFENSEMAN:   Oscar Klefbom (Oilers)
FAVORITE GPP GOALIES:   Devan Dubnyk (Wild), Anttii Ranta (Coyotes), Ben Bishop (Stars), Scam Talbot (Oilers)
NHL BETS:
Oilers Money Line
Canes/Hawks OVER
Wild/Kings UNDER