Time to cover the stacks for the NHL slate on Thursday 10/25 with 10 games tonight.  The only team on back to back is Vancouver who is also on their "Dads" trip and it got off to a decent start last night as they played better than expected in Vegas.  Tonight they're in Phoenix so it's a quick trip but still an Away/Away B2B game and a spot to potentially pick on tonight.
In today's article and hopefully going forward in these larger slate stack articles I am adding some details on each stack that I am breaking down to show how to extend the stack with a 4 man ("Extra Stacker") or how to shorten the stack ("Mini Stack/Combo") down to 2 players.  Use the extra stacker more in larger tournaments where you are playing for the team to have a heavy scoring night at lower ownership typically and use the mini stack/combo plays as your starting point if you are building a cash or single entry lineup.  All stacks can be used in any format in my mind, it's just how deep we take the stack in various contests.
General rule of thumb (not a 100% rule) on NHL stacking and roster construction.
Cash/Single Entry:  2 to 3 players from a line/team.   I always have at least one correlation in cash and usually two.
3, 5 and 20 entry max:   3 players
MME:   3 to 4 player stacks
---
STACK OF THE DAY / LINE LOCK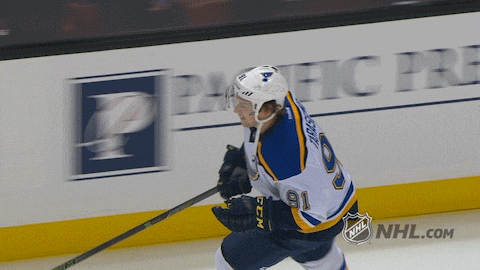 St. Louis Blues:   Schenn-Schwartz-Tarasenko
Rob Geriak really likes Alex Pietrangelo to get going soon, so if you want a fourth guy here to go all in we can certainly do that as well.  The Blues are facing off against Columbus tonight and while Bobrovsky is rarely a goalie we want to pick on, this is one of those spots where I really only trust one line on the Blues but I expect them to win and have upside to score 4 goals tonight in what could be a back and forth game.  Tarasenko is the stud we really want on this line and the prices on Schenn ($5600) and Schwartz ($5000) make it so that we can get the full line into a stack without killing our roster construction tonight.  The goal with the line stack is to get action on three goals from this line and when it's down to one line that should produce that's when we have a nice pivot off the deep teams like Pittsburgh and Toronto.
Stack:   Schenn, Schwartz, Tarasenko
Extra Stacker:   Pietrangelo
Goalie Correlation Confidence:    Low
Mini Stack/Combo:  Schenn & Schwartz
CHALK STACK
Chicago Blackhawks:  Anisimov-Kane-Saad
The Rangers have been really bad versus centers and defenseman so there's some logic to just taking Anisimov and Duncan Keith or Toews and Keith here and moving on, but the price on Anisimov and Saad remains very favorable to get a full line stack in here very similar to the Blues stack and this is a spot where Chicago is facing a much worse team in the Rangers than what St. Louis is facing.  I just fear the depth of the Blackhawks here so while I think this line scores tonight I am leaning the Blues in tournaments because of multi-goal upside.  Exposure to Anisimov and Kane on the top PP is a great way to start cash games today where they should get that extra ice time and easier points.
Stack:  Anisimov, Kane, Saad
Extra Stacker:   Keith or Toews
Goalie Correlation Confidence:   Medium
Mini Stack/Combo:   Anisimov & Kane
GAME STACK
Philadelphia Flyers vs Boston Bruins
You think I don't wanna attack the crap out of Suckka Rask here?  Absolutely.  Boston returns home following their west coast trip to face the jeckyl and hyde Philadelphia Flyers who some days will look like they will lead the league in scoring and other days look like absolute dog shit.  This feels like a gritty type game for the Flyers, and no I don't mean Justin Turner's evil twin brother the Flyers mascot.  I mean guys like Claude Girioux and Wayne Simmonds finding a way to generate offense for Philadelphia today.  Bergeron is going to negate Coots completley here but I trust neither goalie and would actually lean the Flyers side to win here.  So for me it came down to do I want to do a Flyers cheap third line stack of Weal, Simmonds and the amazing (sarcasm) Oscar Lindblom along with Brian Elliott or do the smart thing and get exposure to Boston 1 and call it a day with a game stack?  Yeah, I'll take Pastrnak here.
Stack:  Weal, Simmonds, Provorov, Bergeron, Pastrnak, Marchand
SNEAKY VALUE STACK OF THE DAY
Washington Capitals:  Eller, Vrana, Connolly
The other high scoring game that should be back and forth tonight is between Washington and Edmonton.  The Caps really have nobody that will skate with McDavid (neither does any other NHL team) as Backstrom can't keep up with him and Kuznetsov won't likely want to keep up with him.  I see a ton of offense in this game but Washington like some other good teams is deep and we get scoring all around and while I like Kuznetsov a ton I fear he'll be chasing McDavid too much tonight to have high upside.  So, if you are looking for a sneaky cheap value play tonight and also to have a late night hammer then consider the Eller, Vrana and Connolly third line for the Caps as they should draw some VERY favorable matchups against a thin Oilers team.
Stack:  Eller, Vrana, Connolly
Extra Stacker:   Matt Niskanen
Goalie Correlation:    Holtby for $7400?  Sure.
Mini Stack/Combo:   This is not a cash play, so no need to shorten it down.
LINE LOCK:    Schenn, Schwartz, Tarasenko (Blues)
ONE OFF STUD WINGERS:   Kane (Blackhawks)
ONE OFF VALUE WINGER:   Lehkonen (Canadiens)
TOP DEFENSEMAN:   Letang (Pens)
FAVORITE GOALIES:   Raanta (Unconfirmed – Coyotes), Dubnyk (Unconfirmed – Wild), Kinkaid (Confirmed, Devils)
NHL BETS:
Flyers/Bruins OVER 5.5
Jackets/Blues OVER 6
Pens/Flames UNDER 6.5
Coyotes ML