Time to cover the stacks for the NHL slate on Thursday,  November 1st (Happy All Saints Day!!) with a massive 12 games tonight and plenty of big DFS tournaments on the slate.
Only the Chicago Blackhawks are on a Back to Back, as they played Vancouver last night in the only game of the Halloween night.
In today's article and hopefully going forward in these larger slate stack articles I am adding some details on each stack that I am breaking down to show how to extend the stack with a 4 man ("Extra Stacker") or how to shorten the stack ("Mini Stack/Combo") down to 2 players.  Use the extra stacker more in larger tournaments where you are playing for the team to have a heavy scoring night at lower ownership typically and use the mini stack/combo plays as your starting point if you are building a cash or single entry lineup.  All stacks can be used in any format in my mind, it's just how deep we take the stack in various contests.
General rule of thumb (not a 100% rule) on NHL stacking and roster construction.
Cash/Single Entry:  2 to 3 players from a line/team.   I always have at least one correlation in cash and usually two.
3, 5 and 20 entry max:   3 players
MME:   3 to 4 player stacks
---
STACK OF THE DAY / LINE LOCK
Vegas Golden Knights:   Karlsson, Marchessault, Smith
Going into St. Louis to face Jake Allen is hopefully the cure that ills this dominant stack from a season ago which is drastically underpriced on DraftKings tonight mostly due to the fact that they have not exploded in consecutive games this season.   The Knights have scored more than 3 goals only twice all season and both were in home games.  In a season when scoring is up, that is a little shocking to see this team failing to produce at the pace they did last season, but I really like the upside here against Jake Allen for the price discounts we are getting tonight.
Extra Stacker:   Shea Theodore
Goalie Correlation Confidence:    High
Mini Stack/Combo:  Karlsson & Marchessault
CHALK STACK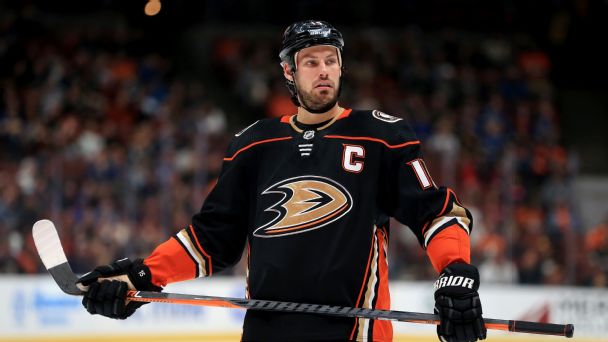 Anaheim Ducks:  Getzlaf, Rakell, Aberg
It's pick on the Rangers time again as they continue their California swing in Anaheim tonight against the Ducks.  This is a money spot of all money spots for Ryan Getzlaf to show his continued streaky fantasy value with 5 points in his last three games and skating with Rickard Rakell should continue to boost him today.  Aberg is not great, but gives you some value if going with a full stack.  I don't mind using Getzlaf, Rakell and Cam Fowler from defense here either tonight.  The Rangers are terrible against centers and defenseman (and well, hockey players in general) and tonight we should see a Duck explosion.
Extra Stacker:   Cam Fowler
Goalie Correlation Confidence:   High
Mini Stack/Combo:   Getzlaf & Rakell
GAME STACK
Colorado Avalanche vs Calgary Flames:  Monahan, Gaudreau, Lindholm
Look for this game to be a popular one as the Flames and Avalanche meet again in what should be a nice track meet up and down the ice.  Johnny Gaudreau has had some massive games against the Avs in the past few seasons and at home ice I expect him to get favorable matchups to continue putting the puck on the net.  Calgary is returning home which was a little rough for them last year, so look for a nice game stack here on both sides as I expect this game to finish in the 5-4 neighborhood.
Yes, I love the MacKinnon line as usual as well.
Extra Stacker:   Giordano
Goalie Correlation Confidence:   NO
Mini Stack/Combo:   Monahan & Gaudreau
FAVORITE COMBOS
Getzlaf & Rakell – Anaheim
Karlsson & Marchessault – Vegas
Monahan & Gaudreau – Flames
Hischier & Palmieri – Devils … Devils (Nico) should bounce back here tonight against the Red Wings.  High paced game and NJ is the better team.
Malkin & Kessel – Pens
Kuznetsov & Ovechkin – Caps …. The Caps haven't played in 5 days which bothers me a bit, however Ovechkin has tormented the Canadiens in his career and if you wanna blow your salary cap on line line I would start here.
Tavares & Hyman – Leafs
Duchene & Stone – Sens … Value
Point & Johnson – Bolts … Value
LINE LOCK:    Schenn, Schwartz, Tarasenko (Blues)
ONE OFF STUD WINGERS:   Alex Ovechkin (Capitals)
ONE OFF VALUE WINGER:   Mark Stone (Senators)
TOP DEFENSEMAN:    Mark Giordano (Flames)