Welcome to the Tuesday NHL DFS breakdown, a.k.a. the article without a name for now.  I'll come up with a better one for my fill in spots going forward…  Maybe by March?
REST NOTES
We have a NINE game slate today and only two teams on a back to back.  Vancouver stays in New York to battle the Isles tonight so I don't see any issues there.  The bigger narrative here to watch is on the Nashville-San Jose game.
Nashville played last night in Anaheim and lost in an OT shootout.  The bigger issue for me though is where they are going tonight — San Jose.  Teams cannot land at the San Jose airport late at night which means that despite it being a very short flight the Predators likely flew into San Francisco and then had to bus an hour down to San Jose to the arena/hotel.  This isn't a frequent situation but it has been discussed before that when this happens the Sharks typically are dominant in the first period against their opponents coming off a B2B and a late night arrival.  I'll obviously have some Sharks exposure because of this below.
TARGET LINES
Yes, I start with stacks instead of individual plays or goalies.  I want to identify the top teams that I like to target each night and then identify the one that I am locking in on for tournaments as a multi-goal stack of the night.
STACKS OF THE NIGHT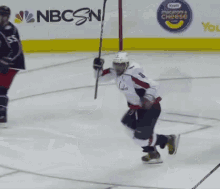 Washington Capitals … Backstrom, Ovechkin, Oshie
UPDATE … Tom Wilson returns tonight.  So now I like this stack a little bit less and I would play Ovechkin mainly as the one off play here.  Wilson has had his 20 game suspension reduced and is going to be on the Caps top line today.  Still can get this stack for PP1 exposure, but I would lean going Ovi as a one off or Kuzy+Ovi
Bruce Boudreau coached the Capitals from 2007 to 2012 and essentially was the guy who oversaw a good portion of the early part of Nick Backstrom and Alex Ovechkins careers.  Ovi has 15 goals in 14 career games vs Minnesota, including two hat tricks in Minnesota over the last 3 seasons and Backstrom scored in this same match-up last season.  The Caps have been sleep walking a little bit as expected but the line shuffling with Backstrom and Ovi together should produce tonight and the fact that Oshie is brought along as the third man here makes me love this line even more.  They're expensive, but they've got 4 goal upside at low ownership.
Philadelphia Flyers … Couturier, Girioux, Konecny
This should be a popular DFS game tonight between the Panthers and Flyers.  Expect all four centers in this match-up to be interesting plays but the real question comes down to who matches up with who here.  I expect a good pace in this game and ultimately I wanna ride the home town top line of Coots-Claude and Teeks.  They're cheaper than the Barkov line and at home the Flyers power play unit should come through today.
Buffalo Sabres … Eichel, Skinner, Reinhart
Heeeeeeeeeey.  Lookie here.  We have the Sabres putting the best top line together possible.  I don't love the spot against Tampa per say but I love the line correlation.  If Tampa does come out flat like they are known to do sometimes then this is the line that should do the damage today for Buffalo.
OTHER TEAMS TO TARGET:   Florida 1 (Barkov/Hoffman/Dadanov), Tampa 1 (Stamkos/Kucherov/Miller)
GPP FADES:   Pens/Devils, Oilers
THREE ONE OFF GUYS I LIKE
Anders Lee (Islanders) – The Canucks have struggled against LW and on a B2B tonight against the Islanders I expect the production to come from Lee who is due for another goal streak.
Evander Kane (Sharks) – The Pavelski-Kane combination is where I expect to see some early production against a banged up and hopefully tired Predators team.  This was a 5-4 match-up when these two teams met last month in Nashville and if you recall I was heavy on the Predators side that game.  Tonight I'm picking the Sharks and Kane has two goals in his last three games.  Look for him to jump on the Preds tonight.
Oliver Ekman-Larsson (Coyotes) – Always a frustrating player to roster in DFS, but he has a good spot tonight against Detroit who is 2nd worst against defenseman in PPG this season and OEL has points in 8 of his last 11 games.
PLAYER RANKINGS
COMBOS … First winger listed is the preferred play
Barkov & Hoffman/Dadanov (FLA)
Couturier & Girioux/Konecny (PHI)
McDavid & Draisaitl (EDM) … McDavid in cash is always a fine play, I just prefer some other spots tonight.
Malkin & Hornqvist (PIT)
Eichel & Reinhart (BUF)
Pavelski & Kane (SJ)
Tavares & Marner (TOR)
VALUE COMBO'S
Point & Gourde (TB)
Barzal & Lee (NYI)
Domi, Drouin (Canadiens) … Like the full line stack here, specifically Domi & Drouin….   Scam Talbot is terrible so give me all the Habs at low ownership here.
Carter & Kovalchuk (LA)
VALUE WINGERS:    Hornqvist (DK), Fiala (DK), Hoffman, Reinhart, Konecny, Johansson, Perlini, Zucker, Marleau
DEFENSEMAN
Oliver Ekman-Larsson (ARI)
Shayne Gostisbehere (PHI) & Ivan Provorov (PHI) … D-Men vs Florida….  It's a weird correlation but I like pairing Provorv with Konecny as one offs.  If you go Coots-Girioux then you want Ghost.
Brent Burns (SJ) .. The late night hammer returns tonight
Drew Doughty (LA)
Ryan Pulock (NYI)
Mike Green (DET)
VALUE D-MEN:   Leddy, Ekblad, Demers, Cholowski, Spurgeon, Phaneuf,
GOALIES
Thomas Greiss (Islanders) … Greiss is likely a chalk value goalie today at home against the Canucks on B2B.
Martin Jones (Sharks) … I wouldn't play him without some Sharks forwards, because we're hoping that the Preds lose back to back games here.  The save volume isn't likely to be extremely high, so he has to get the win to really pay off.
Freddie Anderson (Leafs) … A little expensive but we have seen Anderson play very well lately and the Kings aren't a high powered offense we should worry about.  The save volume is limited today but he's in good spot IMO.
LINE LOCK OF THE NIGHT:     Couturier-Girioux-Konecny (Flyers)
ONE OFF STUD WINGER:     Evander Kane (Sharks)
ONE OFF VALUE WINGER:     Travis Konecny (Flyers)
TOP DEFENSEMAN:    Oliver Ekman-Larsson (Coyotes)