We continue with Part 2 of the MLB 2020 Park Projections with the two mid range rankings for this short season.  There are definitely a few stadiums in here who are severely impacted by the schedule this year and their rankings are going to shock you a little bit if you have followed me in the past.
20-16:  Not as good as you think Tier
20.  Chase Field – Arizona
2019 Park Factor HR Ranking:  20th
We start right off with the biggest drop of any stadium and it has NOTHING to do with the humidor ladies and gentlemen.  The long love affair I have had with this stadium despite it being a giant warehouse and not that awesome visually is that when the roof is open and we let that Arizona air into the stadium the ball carries.  It's a well documented, scientifically proven theory that even the COVID-19 scientists would say is a no brainer.  When the roof is open, you play the over and you play the game.  The other thing I always loved about this stadium was the runway of dirt between the pitchers mound and home plate.  An old school style ballpark characteristic that is now gone with their new turf (which really hurt offense more than the humidor).  That too is gone.  I say that too because I fully expect the roof to be CLOSED 99% of the games this season.  There's absolutely no reason why they wont have the roof closed without fans.  One of the biggest benefits in the summers was when we could get intel that they would plan on opening the roof in the third inning because they wanted the fans to see the great views instead of the ugly inside of a COSTCO warehouse.  That's gone.  No more fireworks after games causing the roof to open up.  Gone.  It sucks.  It just plain ole sucks.
Add in that the Diamondbacks pitching staff is pretty good and they'll see mostly good staffs here playing AL/NL West teams and we can basically drop this stadium down into the group that I feel is decent just not a spot to rush too or be contrarian with this season.  There is one good news.  We still have "The Pool".
It's pool day at #DbacksSummerCamp! pic.twitter.com/FDsbhiu9ZG

— Arizona Diamondbacks (@Dbacks) July 8, 2020
2020 Visiting Team to watch:  Texas Rangers (They get to visit in late September, which — maybe — if we are lucky we get the roof open for)
19.  Globe Life Field – Texas
2019 Park Factor HR Ranking:  N/A
It's very close between Texas and Arizona for which one I wanted to rank lower, but I'll give a slight edge to Texas because the Seattle Mariners pitching staff will have to visit this new stadium.  Yes, this is a new stadium for those of you who have been living under a rock.  The Rangers, who once played in this beautiful Arlington Stadium with the worlds best jumbo-tron decided, ya know what, we need a new stadium because this really cool looking ballpark that screams Texas isn't innovative enough.  Can we go get something else?
Sure!  Here you go.  Lets copy the Houston Astros stadium design and move our team there.  Perfect, what should we call this awesome very un-creative ballpark?  Oh I dunno, what was the name of the old stadium?
Globe Life Park
Cool, lets call this new park ………………… Globe Life STADIUM.
How the hell did the Rangers decide to name this park?
So let us recap the evolution of the Texas Rangers home stadiums…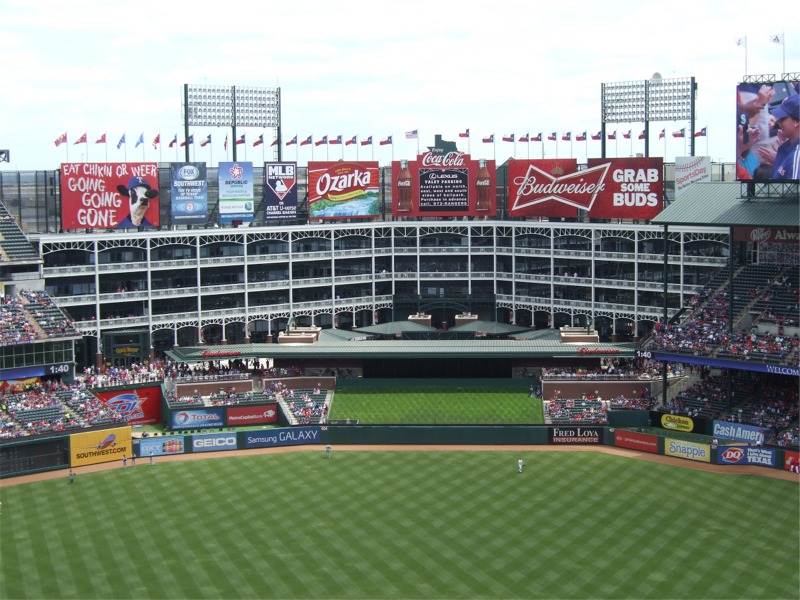 They went from a god damn jumbotron the shape of Texas which is fucking awesome.
To some weird ass center field with a shit ton of flags, giant billboards and cool architecture that just screams TEXAS ya'll.
To a fucking domed baseball stadium.
You get an F, Texas Rangers.
New Stadiums = Pitchers Parks
Indoors in Texas = Pitchers Park
Hate it….
2020 Visiting Team to watch:  Nobody, screw this place.  Pitchers park.
18.  Dodger Stadium – LA Dodgers
2019 Park Factor HR Ranking:  9th

I am a fan of Dodger stadium.  It's old, has ugly seating and no longer has Vin Scully on the call.  But the view beyond center field is one of the best in the league so long as you ignore the parking lots.  The history of this stadium cannot be denied and every time I see it I hear Vin Scully in the background.  It's also got some weird pull out right field where I swear there is a nice wind tunnel there allowing for it to benefit left handed hitters more.  Which is weird because visitors Nolan Arenado and Paul Goldschmidt (both RHB) have done fairly well here in L.A. over their NL West playing days.  But likely due to the Dodgers having some power lefties this stadium has seemed to play well for the home lefties.  Outside of that, it's just a park that benefits from a home team with very good pitching and a home team with lots of HR power.  Should it skew your analysis into using players or not using them?  Not really, but day games can be pretty good offensively at times.
2020 Visiting Team to watch:  The Flying Arenado's.
17.  Angels Stadium – LA Angels
2019 Park Factor HR Ranking:   11th
We head up to Anaheim as the two L.A. stadiums come in very close to each other.  I have upgraded this stadium just because we have a ballpark with Anthony Rendon, Shohei Ohtani, some Mike Trout guy, Dylan Bundy and oh yeah — Juliooooooooooooooooooooooo Tehran.  So we can expect some homers here simply due to that.  This stadium has had a long history of the "marine" layer theory, which simply states that L.A. has a heavy marine layer over it and it impacts the Angels more than the Dodgers for some reason.  Night games specifically the air can cause things to travel less.  I personally don't buy into it at all, it's just a stadium which doesn't have any hitter benefits but it does have one major pitcher benefit which has long been overlooked.
The rocks.
That is the batters eye during the day time where former Angels RHP Jared Weaver due to his arm angle was labeled as being able to hide the ball extremely well during day games.
The problem is, nobody has really been able to truly replicate the Jared Weaver theory.  One, you need the same arm angle.  Two, you need to make sure to pitch towards the third base side of the rubber.  Three, Jared Weaver was really tall (6'7) and with his long arms could get the ball up to the angle where it started to come from the rocks.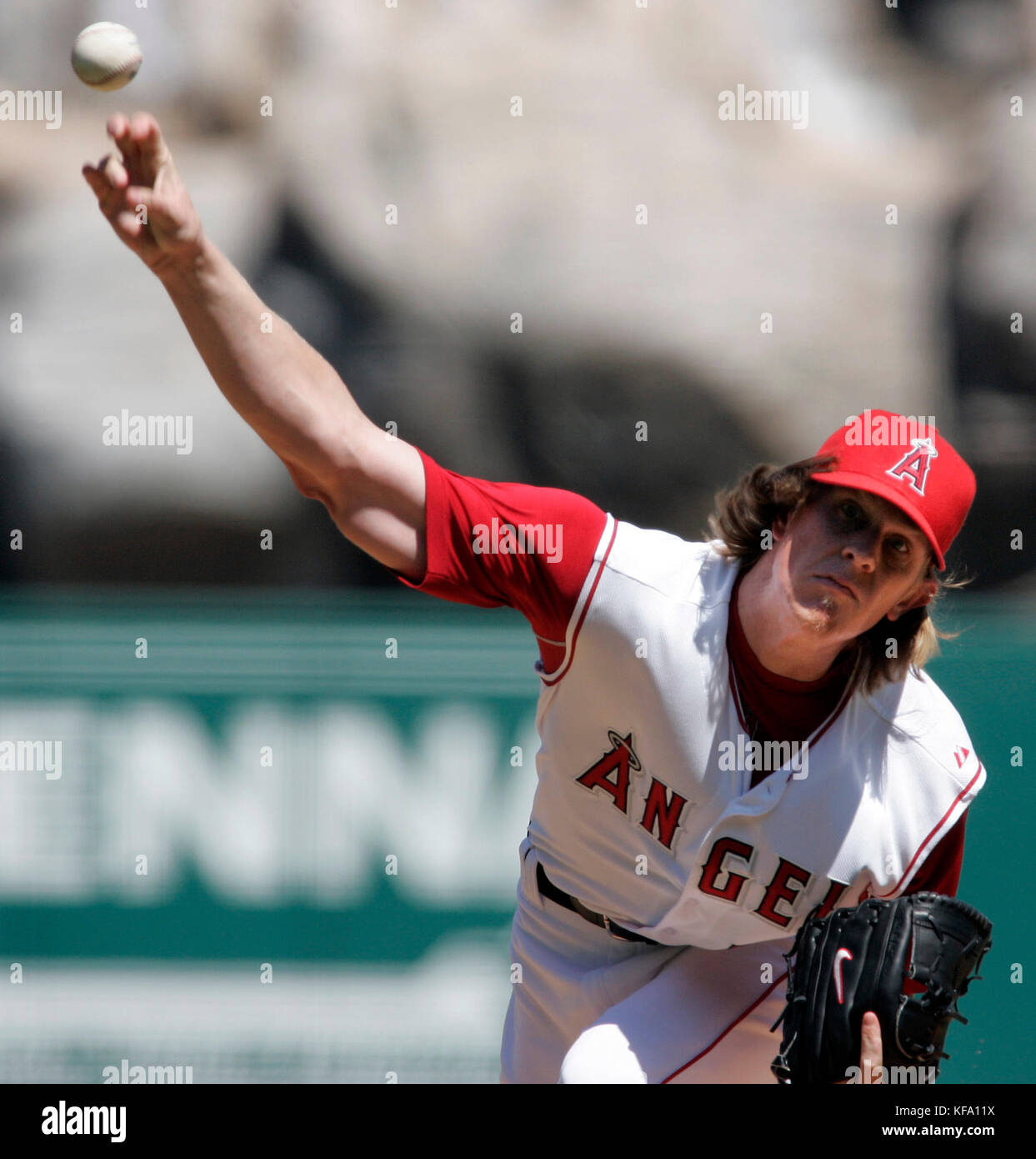 I want to believe Julio Teheran can replicate the arm angle, but he's just too short to fully be in the same boat.  That said, you can fully expect me to go all Julio if the Angels have a nice afternoon slate game at home on a Sunday.
2020 Visiting Team to watch:  Oakland Athletics.
16.  Yankee Stadium – NY Yankees
2019 Park Factor HR Ranking:  25th
Even in this shortened season you will see and hear probably no fewer than 20 days when someone references Yankee Stadium as a "band box" ballpark for hitters and especially left handed hitters and that you should be playing guys here simply for that.   If this was a FULL season, I would have ranked this stadium 20th where Chase Field was and put Chase Field here because over a full season, Chase is better.  Chase produces far more doubles and triples which are just as important in DFS for projecting high scoring games as the short porch where you can project some solo home runs from douchebag Yankee hitters who are likely getting some sign stealing in.  But in the short season Yankee Stadium gets the benefit of no April and early May games which are generally cooler and who knows, maybe Giancarlo Stanton and Aaron Judge can stay healthy the full 60 games here.  Yankee stadium ranked EXTREMELY in the negative for all park factors, runs, home runs, doubles yet again in 2019.  Why?  It's either a home run or nothing stadium.  You won't find any Yankee coming in here and leading the league in doubles because the outfielders can cover the entire OF area.  The Yankee pitching is so good that opposing hitters do nothing on the starter and then once the bullpen takes over its lights out.
You know what I never do?  I never stack in Yankee stadium and neither should you.  But for a few one offs here and there — like Sanchez in a day game, absolutely.
2020 Visiting Team to watch:   Nobody …
15-11:  Sneaky Stadiums Tier
15.  Comerica Park – Detroit
2019 Park Factor HR Ranking:   10th
True story.  If I could go back in time and visit any Baseball Stadium no longer around it would be the old Tiger Stadium.  Why?  I have no clue, it just always seemed like a great stadium to time travel back into on a random Wednesday in August and watch a Baseball game.  Call me stupid, call me crazy, but thats my spot.  Anyways, onto Comerica, which is a HUGE stadium and one of the best parks for triples and seemingly a spot for great defensive plays as well.  But you know what else I noticed about Comerica over the years?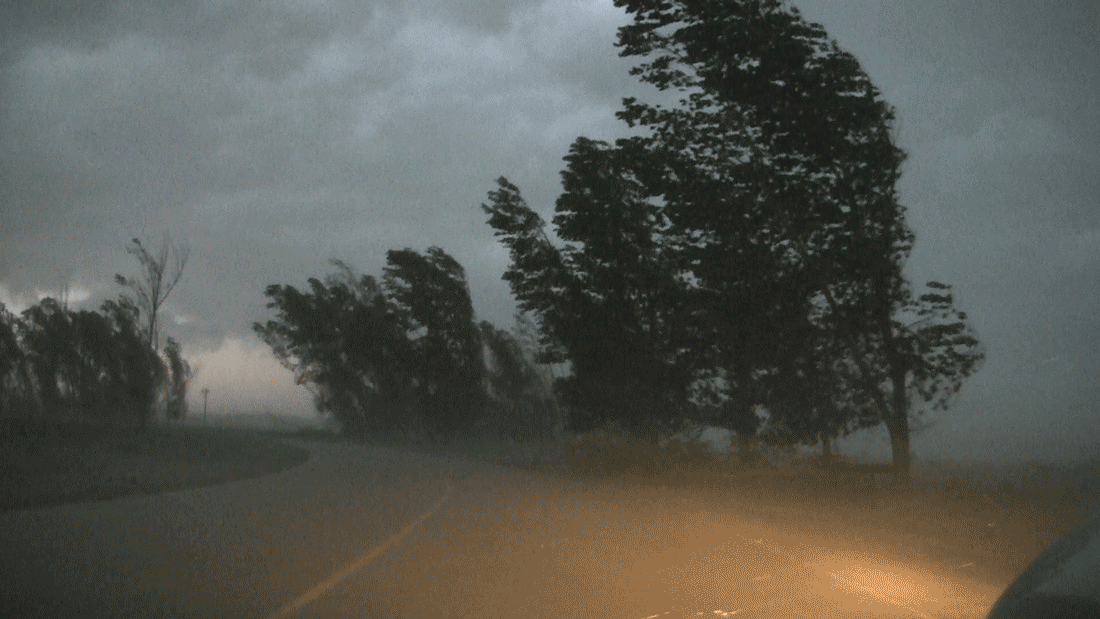 The Wind!  That's right folks.  Detroit has some weird wind narrative associated with it and thus it leads our tier of stadiums that have some narratives associated with them.  This one is very simple.  When the wind is blowing out, usually to left center field, over 13.283 MPH — you STACK the game.  ESPECIALLY the visiting team.  It really is that simple.  Outside of that, there's two other things I like about this stadium.  The first is that they have a dirt patch from home plate to the pitchers mound.  A+.  The second is that they play Thursday afternoon day games — even if the visiting team just arrived for a four game series.  I'm a Royals fan who watches too much Arizona Diamondbacks baseball but also listens to far too many Detroit Tigers radio games as well.  Tune in, they're decent even if Jim Price is drunk the entire time.
2020 Visiting Team to watch:  Alex Gordon and … well, Alex Gordon
14.  Guaranteed Rate Field – Chicago White Sox
2019 Park Factor HR Ranking:   5th
I have always been less enthusiastic with this stadium than the rest of the DFS industry.  It really has zero narrative associated with it and the White Sox pitching staff has some arms who can pitch well at times which could make it fall squarely in the middle as I suspect.  This is one of those symmetric outfield where everything kinda bends evenly around the outfield and there's nothing visually about this stadium that makes it stand out.  It's in Chicago, and not the good part of Chicago as well, so that sucks.  The name of the Stadium is just horrible and I know Comiskey was an asshole but c'mon that's a way cooler Baseball Stadium name than Guaranteed Rate Field.  Who the hell wants to spell Guaranteed Rate Field when they do articles?  What a horrible stadium name, which hosts a shitty Baseball organization which has put the biggest douchebag announcer into their hall of fame.  Put that on the fucking board and suck it.  This stadium gets zero GIFs.
2020 Visiting Player to watch:  Donaldson, Josh
13.  Progressive Field – Cleveland
2019 Park Factor HR Ranking:   13th
<insert Rage Against the Machine music>
I was going to go on a full dialogue on this one, but nah.  If you have read my articles before you know what this is all about.  If you are new here then just wait for the Manifesto where I get into the LiC.  What is LiC?  Okay fine, I'll get into it.
Lefties.  In.  Cleveland.
It's that simple.  You play road lefties in Cleveland over the course of a visiting three game series and you will reap the rewards.  Eddie Rosario, Max Kepler, Mike Moustakas, Shohei Ohtani, Nomar Mazara, Austin Meadows just to name a few over the years and we'll have more this year as a we have a nice schedule of games going into Progressive Field.  There have been some articles which claim the left field scoreboard actually is bad for visiting hitters but I think those guys are just bad at Baseball as the history has shown this stadium benefits lefties and it's not something that is glaring like Coors Field helps hitters.  That's why it's a DFS goldmine.  You jump on this stadium when the Indians are home and look at the visitors lineup.  Find the lefties, and I assure you each of them will have a really good game in the series.
LiC
It's not just a narrative.  It's a cult following.
2020 Visiting Team to watch:  NL Central Lefties and just play Franmil Reyes even though he is a righty.  
12.  T-Mobile (SafeCo*) Stadium – Seattle
2019 Park Factor HR Ranking:   17th
Mike Zunino hit two home runs here one, so it has to be hitter friendly, no?  Oddly enough this is a park that seems to flip one  year to the next in terms of do you play it with the roof open or with the roof closed.  I wouldn't necessarily assume that they play with the roof closed here either as Seattle in the summer should be fairly nice to play in, but normally it's a stadium that I prefer the roof to be CLOSED in and if we get that with no fans in the stands then you could see this stadium shoot up the rankings because the Mariners pitching is God-awful again this season.
If you put aside AT&T ballpark and PNC ballpark then this has to be right up there in terms of one of the nicest looking stadiums int he league.  Something about it just feels better than Houston or Texas, which are also retractable roof stadiums that look similar.  While it doesn't quite have the charm of a Camden Yards or any of the old greats, it's still one of the top 10 stadiums in the league visually.
For offense?  It can be good, and nobody loves hitting here more than Mike Trout, who of course loves hitting in America (except Boston).
2020 Visiting Team to watch:  LA Angels
11.  Fenway Park – Boston
2019 Park Factor HR Ranking:   21st
Great stadium, I would love to go there as soon as they allow fans.  The team stinks this year though.  It's really not a hitters ballpark when you stop and think about it.  It's hard for righties (most of the league) to hit doubles if they are a line drive hitter.  Mike Trout of all people hadn't hit a home run here until last season — imagine that!   And lefties who go opposite field are the main lefties you want outside of massive left handed 1B like Mo Vaughn and David Ortiz.  Is this a dominant pitchers park?  Hell no.  Not in July and August when Boston really heats up like the rest of the country, but in a full season this would be further down the list.
I just have zero confidence in any Red Sox pitcher this year and so it's coming in at #11 because any road team going into Fenway should benefit from good weather + favorable stadium for getting men on base and having long innings combined with that Boston pitching staff.  Stack gold for the visitors.
The home team?  Not so much.  They're frauds.
2020 Visiting Team to watch:  Love all of them but really the Blue Jays.
Next Up:
10-5 THE MONEY MAKERS
4-1 The Mt Rushmore for 2020