The Monster Energy NASCAR Cup Series playoffs continue this weekend, and for the first time, Richmond Raceway will be part of the postseason action. Saturday night's Federated Auto Parts 400 will be the second race of the year at the three-quarter-mile oval, but it will be interesting to see how the pressure of the playoffs impacts the racing at a short track that has already been known to provide some excitement.
When it comes to season-long Fantasy NASCAR games, a short track race opens up some options in all formats. Yes, you could still roll out the Big 3 and the other top options and probably do just fine scoring wise, but that's probably not the best way to allocate your starts in the Driver Group Game. More importantly, it's probably not the best strategy for posting the best scores in any of the contests.
The driver hierarchy tends to shift a bit at short tracks, and Richmond is no exception. Steady Top 10 options like Joey Logano, Clint Bowyer and Kurt Busch are legitimate contenders for the win at Richmond. Meanwhile, there are several mid-tier drivers that have their best chance at a Top 10 a short track.
With that in mind, I'm more than willing to stray a bit from the usual suspects. This strategy is an easy decision in the Driver Group Game because it also has long-term benefits in terms of lineup flexibility, but even in the Fantasy Live where there is no longer a limit on how many times I can use each driver, I don't feel locked into to having to use the Big this weekend.
Don't forget that NASCAR won't hold post-qualifying inspection until Saturday morning, so starting spots won't be official until after that process is complete. In the meantime, check out all my season-long Fantasy NASCAR picks for this weekend's Federated Auto Parts 400 at Richmond, and good luck tackling the second-to-last short track race of the 2018 season.
Get access to NASCAR DFS information with our DFS All-Access Package! Check out all the perks today!
NASCAR.com Fantasy Live
Kevin Harvick (Playoff)
He wasn't top on my list heading into the weekend, but after Harvick grabbed the pole for Saturday night's race, he becomes a no-brainer play for me. He's always been reliable at Richmond, and it has been more than five years since he has finished outside the Top 15. More importantly, he has four Top 5s in the last five races at Richmond, and Harvick has the track position to pile up a bunch of stage points.
Joey Logano (Playoff)
Logano just keeps clicking off solid finishes at Richmond, and he will be trying for his 10th straight Top 10 at the track this weekend. More importantly, he has three straight Top 5s here, and he has earned points in all six stages in the three races since 2017. Logano swept both stages and finished fourth back in April. Starting 13th, I expect another strong finish and plenty of stage points.
Ryan Newman
Newman has some momentum after back-to-back Top 10s at Indianapolis and Las Vegas, and he has really been a Top 15 driver for much of the second half of the year. He's also been solid at Richmond, earning points in four of the six stages since the start of last season and picking up two Top 10s in three races. Staring 16th isn't spectacular, but it still puts him with the fourth-best starting spot among non-playoff drivers.
Jamie McMurray
I bailed on Suarez after he failed inspection and dropped from fifth to 38th in the running order. I was tempted to role the dice on Cole Custer, but McMurray is simply the safer play in my mind. He starts 14th, and he has a 10.0 average finish over the last 10 races at Richmond, finishing 16th or better in nine of those starts.
Garage Driver – Kyle Busch (Playoff)
It was impressive enough that Busch picked up his fifth career win at Richmond back earlier this year, but it was even more impressive considering he started 32nd and was already running sixth by the end of Stage 1. Busch's 7.2 average finish at Richmond is the best among active drivers, and in addition to the five wins, he has 16 Top 15s in 26 starts, including three finishes of either first or second in his last six. After qualifying in the Top 10 this time around, I expect even more stage points as he contends for another Richmond win.
Fantasy Racing Cheat Sheet Driver Group Game
Joey Logano (A)
I have starts left with the Big 3, but I only have one left with Kyle Busch, and I think he is a smarter play at Martinsville. Plus, nobody has been more dependable at Richmond than Logano recently. He has nine straight Top 10s here, and during the same stretch, no other driver has more than six. Logano is also the only driver with multiple wins in that span, and his 4.4 average finish is also the best.
Aric Almirola (B)
Almirola had one of the more underappreciated performances at Richmond in the spring because all the late wrecks resulted in a 17th-place finish. However, he finished second and third in the two stages and had one of the fastest cars on long runs. After qualifying inside the Top 10, he looks ready to pick up where he left off back in April.
Kurt Busch (B)
I have been holding on to my last couple of starts from Busch, but I think Richmond is a place to use up one of them. Over the last 10 races here, his seven Top 10s rank second in the series, and he has actually reeled off eight straight Top 15s at the track. Busch had an excellent car here in the spring, leading 98 laps and posting the third-best average running position. His high floor and Top 5 upside make him tough to pass up, especially after a fifth-place effort in qualifying.
William Byron (C)
I was tempted to use Regan Smith while I know I have him available as a decent Group C sleeper, but Byron was excellent at Richmond in the spring, and I still have wild-card races at the Charlotte road course and Talladega where I can save starts from Byron and his teammate Alex Bowman. Back to Byron, he finished 12th in his Richmond debut, posting the 10th-best average running position and finishing in the Top 5 in both stages.
Slingshot Fantasy Auto Lineup
Kyle Busch ($12,300)
Joey Logano ($11,100)
Clint Bowyer ($10,000)
Daniel Suarez ($9,900)
Regan Smith ($6,700)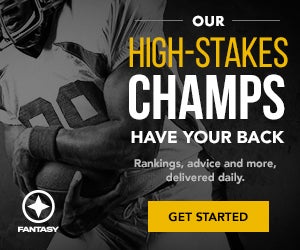 Join FullTime Fantasy for top advice in the industry from check-cashing, proven winners!